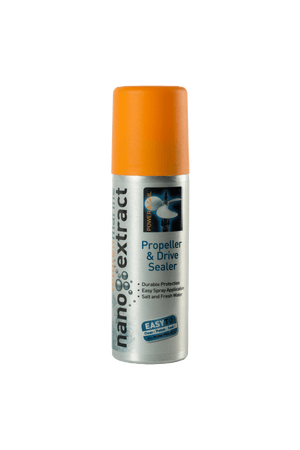 Feldten Marine
Propeller & Drive
Sale price Price $26.75 Regular price $26.75
Our innovative Propeller & Drive Sealer Spray provides you with durable, transparent and ultra thin protection for propellers, drives, and other metallic surfaces under the waterline.
It efficiently reduces adhesion of biological growth in both fresh and salt water. Offers convenient easy-to-clean properties once the surface has been treated.
With a convenient spray application, you can keep your boat's valuable propeller well maintained and protected from underwater growth and wear and tear. The durable clear coat will last for months, even with frequent use of your boat. Quickly reapply whenever needed.
Get plenty of usage from just one bottle, and lower your depreciation and maintenance costs. You'll be amazed at how easily your propellers and drives can be cleaned after just one coat. Our Propeller & Drive Sealer Spray is a unique product that will protect your boat's valuable underwater components and make it easier than ever to maintain and clean them.
Use on all types of propellers and drives
Reduces adhesion of biological growth in salt and fresh water
Creates highly durable clear coat on the surface
The coating is designed to sustain high speed of rotation
Very easy to apply by spraying
Easy-to-clean properties for convenient maintenance
Available in 125 ml aerosol bottle
We are so sure you are going to love Feldten Marine we offer a full 30-day money back guarantee. If for any reason you are not satisfied with your purchase, simply return your bottle for a full refund.