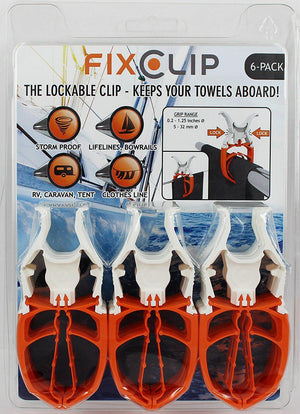 Feldten Marine Nano Extracts
FIXCLIP - The Storm Proof & Lockable Clothespin
Sale price Price $17.99 Regular price $19.99
 GET A GRIP WITH FIXCLIP
FIXCLIP is a brand new and innovative lockable clip made for challenging and windy conditions, on a boat, at home, or at work. With FIXCLIP's unique features we can now offer a clip that holds its grip even under the toughest conditions.
NEW TECHNOLOGY
FIXCLIP's patented dual knee-lock and self-locking friction arms provide unique grip-holding properties. FIXCLIP has no metal springs and therefore no problems with rust.
NEW OPPORTUNITIES
FIXCLIP keeps a firm grip on towels, clothes, tarpaulins, etc., even in strong winds. This offers new possibilities, for example airing/drying clothes and towels during a boat ride or on a balcony, without worrying over blown over clothes.
ONE SIZE FITS ALL
The flexible grip range of 5-32 mm (0,2"- 1,3") enables a broad use of FIXCLIP - one size fits all.
WINNER OF THE PLASTIC INNOVATION AWARDS 2015
Hi-Tech Plastic

Imported

STORM-PROOF - Holds beach towels in over 70 knots wind. Never lose your towels again from your boat or beach lounger

DUBBLE LOCKING SYSTEM & SELF LOCKING FRICTION ARMS - With a grip ange of 5-32 mm (0,2"-1,3") Thick bow rails to thin lines. Makes FIXCLIP the strongest and versatile clip on the market

UV-RESISTANT & DURABLE HI-TECH PLASTICS - No metal springs no rust. Will last 30 times longer then regular clothes pins. You will save money

ONE SIZE FITS ALL - Broad use for clipping towels - clothes - tarps - covers, carpets - wet suits and tents while Boating - Camping - RV - On strollers - Balcony - Hangers for airing - Gardening - Sun chairs - Canopies. It is also a great gift