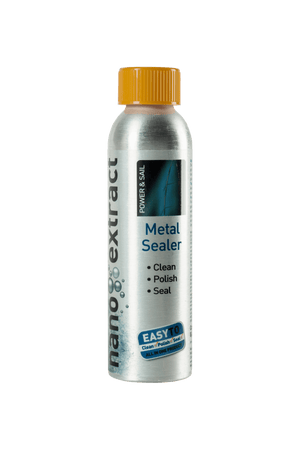 Feldten Marine
Metal Sealer
Sale price Price $29.50 Regular price $29.50
Our metal sealer offers industry leading nano-technological protection of a variety of metallic surfaces (aluminum, stainless steel, copper etc.) above the waterline that effectively cleans and seals in just one application step. Simple to apply with no immediate need for extra treatments to create the necessary protective layer.
If there is a need for future restoration or maintenance treatments, the prior coating does not have to be removed, unlike other sealers. Restores a beautiful shine and luster that brings out the best of your metallic surfaces. Being as functional as it is visually appealing, this sealer will keep your metal surface protected from the elements and corrosion.
Can be used on stainless steel, copper and brass surfaces
Polishes and seals in a single convenient step to save you time
Creates hydrophobic and oleophobic protective layer
Removes oxidation and rust from the surface and locks in the restored shine
A 50% faster application time in comparison to other leading polishes and metal sealers
Made with Nano Extracts to create a stronger, tighter protective layer than other sealers
Available in a portable 250 mL aluminum bottle
Available in 250 ml aluminum bottle
Application Instructions: Click Here
We are so confident you are going to love Feldten Marine, we offer a full 30-Day Money Back Guarantee. If for any reason you are not satisfied with your purchase, simply return your bottle for a full refund.